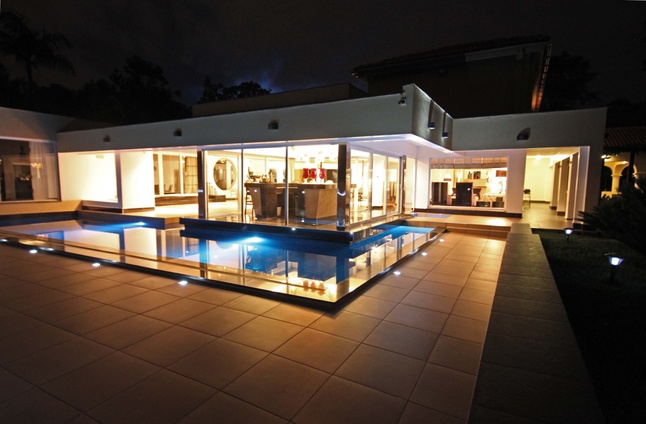 Similar to their indoor relatives, outdoor lighting solutions can be mixed and matched to complement your personal style.
Whether you're hosting a daytime gathering, putting the landscape on display under the stars, or simply showing concern for the safety of visitors, a few well-placed lights can make all the difference.


Hang String Lights Anywhere
String lights are an easy way to create a soothing, ambient glow. Whether you're preparing a romantic outdoor meal for two or hosting a big party, gleaming strands tie the desired aesthetic together.
Keep it simple for small gatherings by outlining the edge of a patio or balcony with a single strand. This subtle lighting solution minimizes distraction while providing a soft luminescence that puts all the focus on your delicious homemade meal.
For a large cookout in a sprawling backyard, hang multiple strands in parallel lines overhead. To do this, make use of telescoping light strand poles or hang from trees to incorporate the landscape. Don't forego this idea because of a rainy day. Improvise by hanging string lights under a canopy.
Place Lanterns Everywhere

Add an atmospheric touch to a setup with a small lantern in the center of the table. Use it on its own or surround the small lantern with slightly bigger accent lanterns or hurricanes at a rectangular dining table. Place them on top of a runner, and then accentuate each with other smaller accessories.
For a different look, place one or two lanterns on the side table next to a the outdoor seating area. They emit a cozy glow that helps you settle in on a quiet night or provide some extra lighting while reading a book.
Floor lanterns are an option, too. Lanterns and hurricanes add to your decor during the daytime hours, too. They spruce up your outdoor space with sophisticated designs and classic appeal.
Hang Pendants from Above
To make your deck feel more like an indoor dining room, consider the addition of pendant lights. They're the natural choice to hang above the table, whether hosting a dinner party or enjoying the fresh air alone.
Maintain the fluidity of your home's modern appeal with a classic black pendant light or keep it rustic.
For formal events, consider bringing your sophisticated style to a porch with a chandelier. Make sure it's weather resistant or under a covered porch. If you're feeling creative, hang a chandelier from the sturdy branches of a tall tree.
 Looking to draw attention to unexpected areas? Hang a pendant light over the lounge furniture or table on the patio.
Guide the Way with Path Lights
For homeowners who believe safety is first priority, install a series of path lights along your walkway. Solar stake lights are a convenient solution, as they turn on automatically and stay in place. For a subtle look, opt for small lights that blend in with the walkway.

Don't have a path but enjoy the subtle glow? Line path lights along the edge of your backyard pond or around your growing garden.
Path lights can be used in the driveway, too. Bright LEDs effortlessly guide you to the garage after dark.
A Few Safety Tips
Here are a few quick tips to keep your friends and family safe around outdoor lighting:
Make sure each bulb is approved for outdoor use. This also rings true if it's under a covered porch, as the ceiling can become cold and wet.
Most installation requires a professional. Hire an experienced electrician to make sure all the I's are dotted and the T's are crossed.
For lights in hard-to-reach spaces, consider investing in bulbs with an extended lifespan. This minimizes how often you'll be climbing ladders and moving furniture.
Provide each outdoor outlet with a cover and make sure the plug is protected as well.
With these tips in mind, shed a little light, and enjoy your space!
Check out our outdoor lighting product range here.